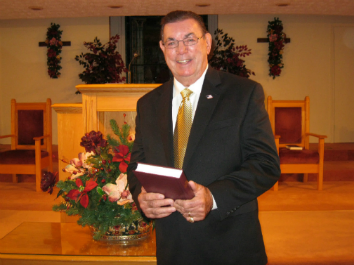 Pastor J. Dan Frost
Jesus said, as recorded by Mathew 16:24-26:
"Then said Jesus unto his disciples, If any man will come
after me, let him deny himself, and take up his cross and
follow me. For whosoever will save his life shall lose it:
and whosoever will lose his life for my sake shall find it.
For what is a man profited if he shall gain the whole
world, and lose his own soul? Or what shall a man
give in exchange for his soul?"
Luke's Gospel (9:3) adds to this thought by stating that we are to take up the cross "daily" and follow Jesus. Christ is making the bearing of a cross the condition of discipleship, for those who would follow him.
First, we must "deny" our self. What does this mean? When Peter denied Jesus he said, "I do not know this man." Denying our self means that we act as though we do not exist. "Let self be slain, let Jesus reign within my heart always." The old hymn puts it.
Second, we must "take up our cross". This means we must face difficult things to show our loyalty to God. It means enduring the worst anyone can do to us for the sake of being true to God. It means that we must spend our lives and not hoard and save our lives, our energies. We do not ask, "How much can I get?" but "How much can I give?"
Third, simply follow the Lord daily. Yes, in the words of the chorus we sing:
"Lead me Lord…. I will follow…..Lead me, Lord…..I will go.
You have called me….I will answer… Lead me Lord…I will go."
- Pastor Dan